How to Produce a Conference: 10 Tips for Success
Tech Tips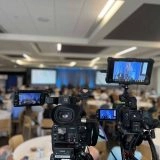 Posted by: DreamOn Studios 3 months ago
If you're looking for a way to engage your audience and provide value through knowledge sharing, networking, collaboration, and community, one of the best things you can do is plan a conference. Conferences are an exciting platform to bring like-minded people together and form valuable connections. 
However, producing a conference also comes with its fair share of challenges, especially if you venture to plan a conference on your own without the support of partners with expertise in the event and production industry. This is where DreamOn Studios and other experts come in!
If you're considering whether planning a conference is right for you, keep reading to discover how DreamOn Studios works with our clients and industry partners to produce exciting events!
10 Tips to Produce a Successful Conference
1. Start with the end goal in mind
The most recent event we worked on was the[PACK]out Conference designed for an audience of healthcare packaging professionals. Just as we did with this conference, before we get started on any action items, we first discuss our client's end goal.
"At the end of the day, we want to know what success looks like and build out from there," says Matt Deuel, Executive Producer and Co-Founder of DreamOn Studios.
Some of what that involves is looking at factors like:
Location: What location is going to be a draw for your audience? Are there experiences, restaurants, or fun activities unique to this location that your audience would love?
Conference date: What timeframe is ideal for your audience's industry calendar?
Attendance goals: How many people do you expect to attend?
Experience goals: Are you planning for breakouts? An expo space for sponsors?
Trends: What industry topics or speakers resonate with your audience today?
Theme: Based on company goals, industry trends, and audience needs, what might make a great theme?
Takeaways: What are the top three things you hope your audience leaves with?
In the context of the[PACK]out Conference, the team wanted to create a unique boutique experience that didn't feel like a black box conference space. They also wanted to plan their event with growth in mind; last year, they had 250 people in attendance, and this year they planned for more than 350 people.
As a result, they chose a beautiful location in Austin, TX, that provided a naturally-lit space with bright windows and plenty of local activities to create a draw. 
2. Begin your planning process two years out
One of the biggest downfalls people have in planning a conference is not realizing how far out they need to start planning. The problem is if you don't plan far enough out,
you miss the opportunity to book your ideal location to draw your audience
you miss the chance to partner with production agencies so you don't get stuck using less-than-ideal hotel AV equipment
you risk limited access to room blocks for your guests
you risk competing with other events in the area
you risk not being able to book the speakers you want for your event

"Even if you don't have all the details of your event in place, I encourage clients to get two years ahead in reserving their space," says Matt.
"I also encourage clients not to underestimate the value of bringing in people early in the process to support planning the agenda, production, logistics, and AV details. 
Another thing that happens when you don't plan far enough out is risking the very expensive downside of using outdated hotel equipment that may not be able to meet your production needs. However, when you bring in a company with expertise in these areas, they are usually prepared with multiple solutions to meet your needs."
During the[PACK]out Conference, Mojo Events, one of the amazing partners we worked with to produce the conference, was able to help troubleshoot any AV issue that came up without delay or additional expense.
3. Center your plans around a common theme
During the early planning stages, one of the things that can help narrow down all your decision-making is choosing a common theme. To do this, you'll want to consider industry trends and audience needs and come up with a theme that resonates and incorporates these factors.
Some of the areas your theme will show up include:
Logo and title: What image or idea resonates with the goal of the conference?
Tagline: What's your one-liner that will generate excitement?
Copy: What's the language that will attract people to get tickets?
Design: What color scheme or relevant design elements connect to your audience?
By zeroing in on a theme that your team and supporting vendors can rally around, you create space for creativity and innovation.
For example, the[PACK]out Conference is in its second year. They wanted to focus on empowering their audience and connecting them to one another, so our team focused on coming alongside to complement their goals and create an environment of community. 
4. Partner with industry experts
One of the best decisions you can make as you start to plan your conference is to connect with industry experts in the field of event production and management.
In many cases, your day job may not necessarily be in event planning or production, and you'll likely give yourself a huge headache if you attempt to work your day job while also trying to produce a conference.
Don't go at it alone! Vendors are ready and able to help you make the job easier and less stressful. 
Some of the expertise you'll want to partner with include:
Production: Show calling, agenda, keeping things moving, problem-solving, etc.
AV support: Screens, conference monitors, sound, lighting, microphones, etc.
Event capture: Photos and video for promotion, social media, and marketing
Logistics: Event planning, hotel bookings, food service, catering, facility management, tables, chairs, transportation, and external meetings or meals
"Ultimately, producing an event is a team effort that likely includes multiple vendors to make it a success," Matt explains.
"The DreamOn Studios team was there to produce and call the show while capturing the event on video. But we weren't the only ones there to make it a success. We also had the joy of working with Mojo Events, who provided AV support, as well as Wings, who focused on all the logistical aspects of the event. And, of course, we all work together with the[PACK]out Conference team to bring about their vision."
5. Customize the speaker experience
When you care for speakers and their individual needs, they will present even better presentations that your audience will enjoy. So take care to learn their preferences and work with them on their presentations so they feel comfortable and at ease.
Some of the speaker customizations and support to consider include:
Microphones: Do they prefer a handheld mic or a lav?
Confidence monitor: Do they like to see what the audience sees, or do they prefer a notes view?
Slide deck editing: Can you provide extra support to customize speaker slides to the event style guide?
Preparation: Does your speaker understand who your audience is? Have you worked with them to prepare their talk ahead of time? Do they know how much time they have allotted?
Hosting: Do they need someone to pick them up from the airport or to care for them and their agenda while on-site?
"Ultimately, the more comfortable the speaker, the better they will perform, so we do what we can to ensure they have everything they need to give a successful talk," says Matt.
6. Build momentum with a seamless agenda
Creating an event agenda is a lot like putting a puzzle together. There are usually various elements to consider, including speaker availability, meal times, and even people's energy.
Once you have a fairly loose agenda in place, we recommend connecting with a production team to help you create the right energy and seamlessness for your event.
The thing is, when you create a seamless agenda that builds momentum and energy, your audience will likely not notice any hiccups. It's when the event is not seamless that your audience will start to notice and get uneasy about where things are going. You want to make sure things are distraction-free! 
Some of the things you'll want to factor into your agenda include:
Speaker energy: Some speakers may be better slotted in the morning vs. after lunch
Breaks: Lunch, bathroom, snacks, networking, etc.
Breakouts: Bonus sessions, usually with Q&A
External Events: Offsite activities and meals
Promotions: Sales pitches, expo hall, etc.
Panel discussions: May require additional AV support and transition between sessions
"Once an agenda is pulled together, we have a meeting to talk through all the sessions to create an ideal flow," says Matt. "It's about creating variety and flows to build momentum and excitement throughout the event."
This may include recommending song transitions, building in breaks, swapping sessions, or breakouts around so that you have a great mix of energy throughout the day. 
7. Create efficiency with clean AV transitions
Another factor you want to consider in your agenda is efficiency. "Technically speaking, sometimes clients will have a number of panel discussions," says Matt.
"For example, eight people might be on stage at once. Technically that means we'll likely max out our mics. So we need to plan for that by building in a break coming out of the panel session so we can adjust the AV."
There are also other factors to consider in AV for an efficient, seamless experience, including lighting and projection.
For example, during the[PACK]out Conference, the room was filled with natural light, so we had to factor in the projection of the presentations on screen as well as the lighting on the speaker's faces so that the audience could have a better view of what was happening on stage.
"It's all about customizing what we provide based on what's needed to produce a great conference," says Matt.
8. Promote your event with FOMO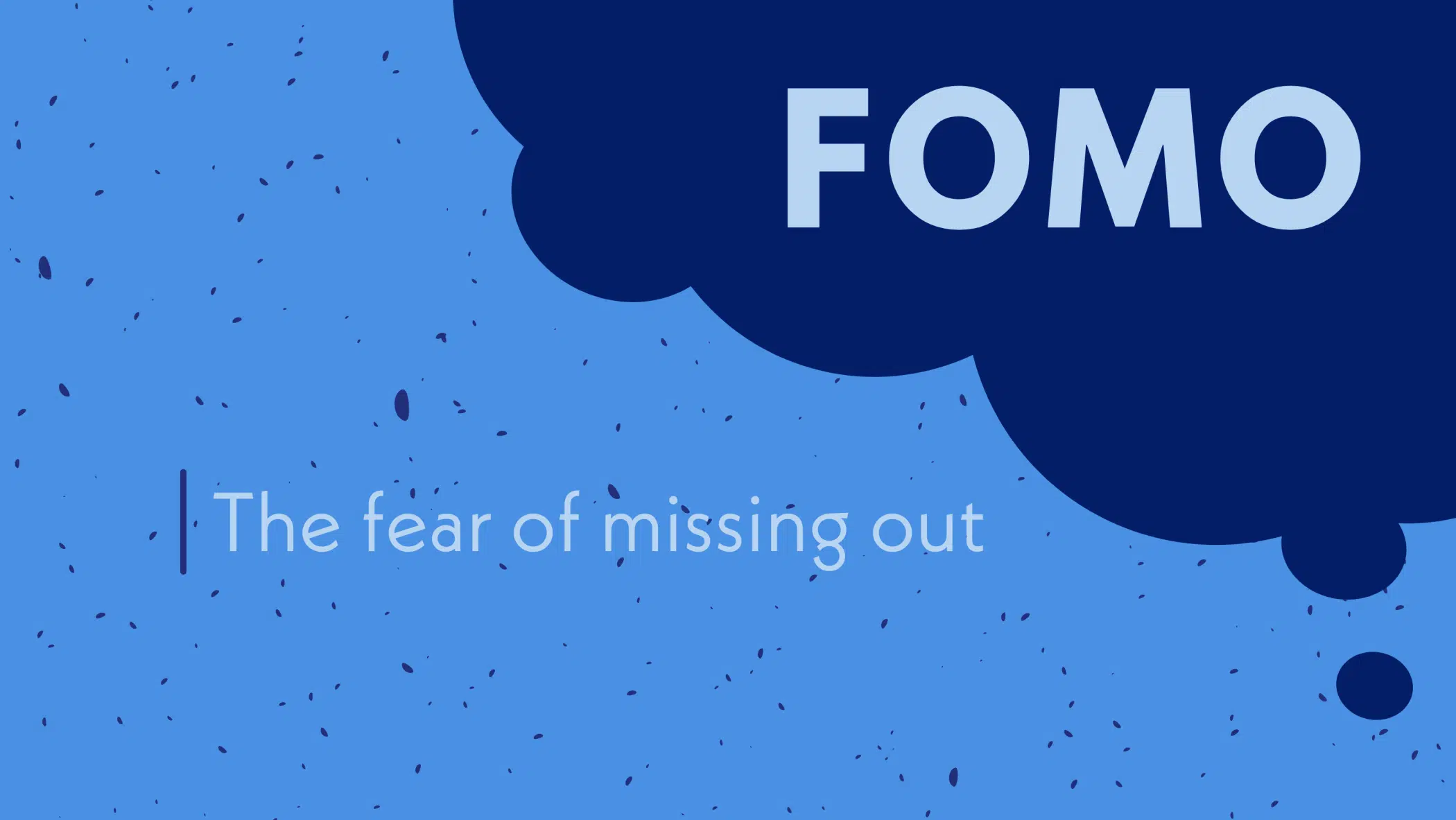 One of the best ways to market and promote your conference is by capturing an excellent video of the experience and using that video to give people a taste of what they missed if they weren't there or remind them of what they experienced so they want to come back again next year.
This is one of the areas where DreamOn Studios excels, and we're glad to partner with conferences that desire to feature the highlights of their best event moments!
Here is an example video of what you can capture at your conference!
9. Avoid defaulting to hotel AV systems
This was mentioned before, but it's worth emphasizing again. Don't default to using hotel AV systems and support for your conference!
"Unfortunately, hotels rarely have helpful AV support," says Matt. "Their approach is typically a one-size-fits-all approach with very little if any, customization to support your individual needs. 
"Hotels also tend to charge a maximum to use it, which definitely puts a damper on your budget. Not only that but in our experience, the projectors and mics are also usually older."
So if you can, plan ahead and partner with industry experts who can help you save money in the long run!
10. Build relationships with industry expert vendors who care about your mission
Speaking of industry experts, this leads us to our last tip. One of the best things you can do to produce a successful conference is to build trusting relationships with industry expert vendors who are not only good at what they do but also care about your mission.

At DreamOn Studios, we desire to work with clients as an extension of their team, not simply just to perform a service but to partner with them to serve their customers and realize their vision.
"While working with our friends at the[PACK]out Conference, we've developed a lot of respect for what the founders have done," says Matt.
"They are experts at what they do and have great things to share! We're excited about how they're bringing people together to bring long-term solutions to the life science industry and the opportunity to be a part of that.
They know their sweet spot, and they know ours. We admire that they have the wisdom to say they need partners to pull it off, and it's such a privilege to work with them!"
Conference Success Key Takeaways
In summary, take note of these helpful tips as you plan your next conference:
Start with the end goal in mind
Begin your planning process two years out
Center your plans around a common theme
Partner with industry experts
Customize the speaker experience
Build momentum with a seamless agenda
Create efficiency with clean AV transitions
Promote your event with FOMO
Avoid defaulting to using hotel AV systems
Build relationships with industry expert vendors who care about your mission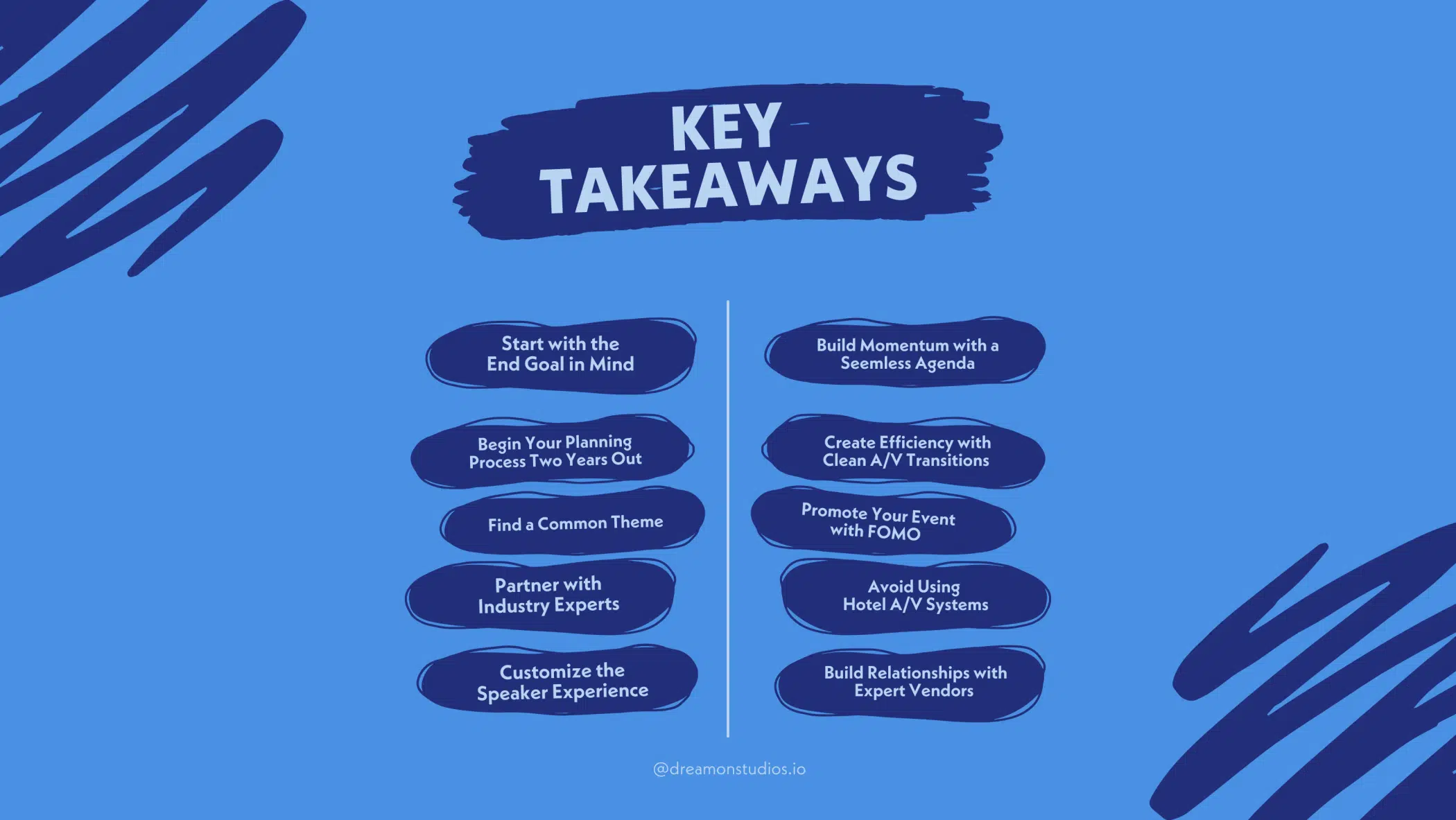 Planning a conference? Connect with DreamOn Studios to discover how we can partner with you to make it the best it can be!