Live Streaming
Create Energy for Your Remote Audience
What Is Live Streaming?
Live streaming is a way to marry the power of video and internet access to connect with a broad audience. Far more than a simple Zoom meeting, live streaming is a way to reach a large audience across geographic timezones to engage your remote workforce, community, or conference audience with town halls or live online events. Some elements of a live-streaming event may include real-time interaction through polls, an online platform for exclusive engagement and access to relevant resources, and an opportunity to broadcast from various locations in real-time.
What Are the Benefits of Live Streaming?
Applications for Live Streaming
Live streaming is no longer just a trend; it has become essential in the digital communication landscape. Here are a few of the applications for your organization!
Corporate Town Halls

Stream meetings to a remote audience, allowing you to address employees globally.

Employee Training

Host live sessions to onboard employees, enhance skills, or introduce tools.

Product Launches

Unveil new products or services and capture real-time feedback.

Virtual Conferences

Decentralize conference access, allowing attendees to participate from anywhere.

Fundraising Campaigns

Host live stream events for a remote audience of partners and supporters.

Stakeholder Meetings

Live stream important company announcements with your stakeholders.

Team Building Events

For teams spread out across geography, live stream company-wide meetings.

Interactive Q&A Session

Host interactive online Q&A sessions to address questions or gather feedback.

Event Broadcasts

Make significant company milestone events like anniversaries more accessible.

Workshops

Share knowledge with your staff or community and allow for live interaction.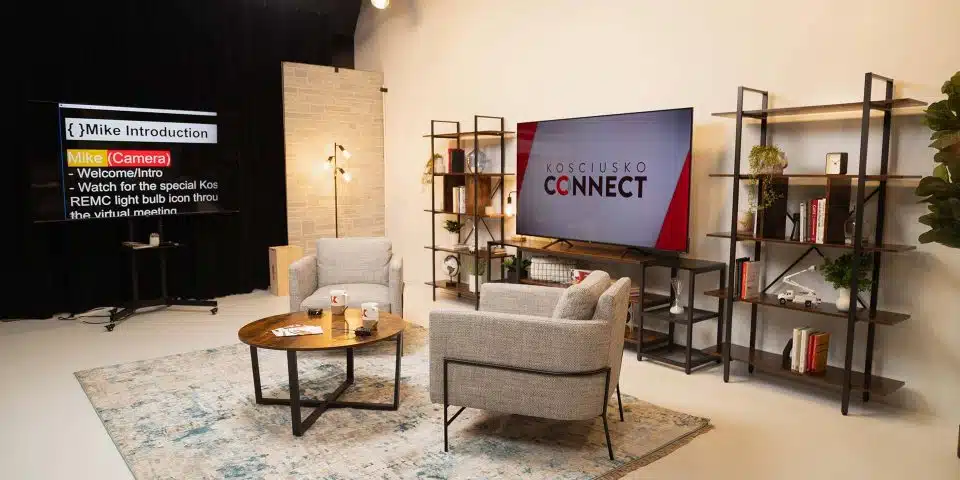 Our Work in Action, Featuring KREMC
From individual video packages, to a custom set, to producing their annual town hall, we came alongside KREMC every step of the way to create an amazing finished product for their members.
Our Approach
A Partnership for Success
Step one: Discovery
During our discovery call or studio tour, we'll take time to get to know you and hear about your vision and goals for your live event or town hall meeting. This will also be your opportunity to get a picture of the potential for your event in our state-of-the-art studio space.
Step two: Production
During the production phase, we'll build a personalized plan that caters to your unique event goals and work with you throughout the process to ensure we're producing an event that exceeds your expectations.
Step three: Launch
During the launch phase, it's time to go live! We'll be here throughout the event to support and oversee all the elements of production behind-the-scenes, so you can focus on delivering your valuable content to your audience.
Are you ready to host a town hall or live online event? We can't wait to create with you!