Client Highlight: Showcasing the Best Kept Secrets in Kosciusko County
Community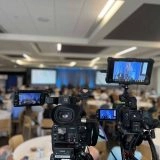 Posted by: DreamOn Studios 7 months ago
DreamOn Studios is passionate about our local community and highlighting stories in our own backyard. Of course, we love traveling to visit our partners in Africa and around the U.S., but there's also something special about where we live, right here in Kosciusko County, Northern Indiana.
So, when we had the opportunity to partner with the amazing team at the Kosciusko County Convention & Visitors Bureau (KCCVB) to showcase the best-kept secrets and promote why this is such an amazing place to live, work, and play, we were all in! 
"We love our community and all it has to offer," said Mason Geiger, Co-Founder and CEO of DreamOn Studios. "This is home for us. We're grateful for the roots we have planted here and the opportunity to be a part of building something inside of a thriving community. I wouldn't want to build this business anywhere else—the people here are the real difference that makes it so unique!"
When we started working with Executive Director, Cori Humes and Marketing & Communications Manager, Laura Rothhaar at KCCVB, we knew we were forming more than a client-to-vendor relationship, we were creating an exciting partnership to promote the community we all love.
By pairing their expertise in tourism and our expertise in video production, we aim to highlight why Kosciusko County is such a great place to live and visit.
What kind of impact does tourism have on Kosciusko County?
Tourism in Kosciusko County has a huge economic impact, creating jobs and driving growth.
We appreciate Cori Humes' background in tourism and her understanding of the opportunity to utilize tourism as an economic driver for the community.
"In 2019, tourism and travel contributed to $200 million dollars to Kosciusko County's economy," said Cori.
"It also generated 2,161 jobs, which provided $39.8 million in wages, while generating $47.1 million in tax revenues with $9.3 million locally. Not only have visitors contributed to the tourism and travel industry in Kosciusko County, but residents have contributed an additional $21.2 million to the local tourism industry!"
It's evident that the visitor economy is important to Kosciusko County! By highlighting what makes it unique and inviting more people to experience it, we hope to share some of the joy while building up our community for the better.
What makes Kosciusko County a unique place to live and visit?
There's so much to explore, unique places to eat and shop, and fun places to play.
"With over 100 lakes, so many fantastic restaurants, and entertainment options like the Wagon Wheel Theatre, Kosciusko County has so much to offer," said Laura. "I love the local trails. Taking evening hikes around the beautiful lakes and through the nature areas is one of my favorite activities."
"I wish more people knew that you can slow down and live well in the moment in Kosciusko County," said Cori.
"You can experience many great things without leaving the county's boundaries. In addition to our lakes, we're also famous for our public art trails, nature preserves, and family events, all while being home to the Orthopedic Capital of the World. Personally, I also love the camels at River Jordan Dairy Farm in Milford, an unlikely attraction in Northern Indiana!"
Beyond the places to play, our community is also a great place to live. It's one of the reasons why people decide to build their businesses here, including us!
 "The community here is really outstanding," said Laura. "So many people here have welcomed me and helped me succeed here. I am a transplant to Kosciusko myself, and I enjoy marketing this beautiful area, the community, and all it has to offer. I hope we can make Kosciusko County stand out in the Midwest as one of the top places to live and visit. I love bringing awareness to this beautiful area!"
"What I love most about it are the people," Cori continued.
"Since day one, the people of Kosciusko County have welcomed me and shown an incredible amount of kindness and fellowship."
Come enjoy our community's best-kept secrets!
"I want to reiterate that the Visitor Bureau is a resource not only for visitors but also for residents of Kosciusko County," said Cori.
"We are community partners continuing our efforts to share why this is CLEARLY a place to live, work, play, and learn!" 
Whether you're looking for a great place to visit or you've lived in Kosciusko County for a long time, check out the KCCVB to discover the best-kept secrets of our community.
Here are some fun projects we were excited to work on for the KCCVB to highlight a few of the best-kept secrets!
"We had a variety of needs related to video production," Laura explained. "We needed high-quality videos showcasing the beautiful community in a way that would draw people to visit. DreamOn Studios made a beautiful overview video highlighting why Kosciusko was the place to live, work, learn, and play."
"We recently launched our Engage Kosciusko Passport Program with free digital passports highlighting and promoting the different things you can do and the places you can eat or shop, each passport offering awesome prizes," Laura explained.
"DreamOn Studios created a video series promoting these passports to help visitors and residents discover new places to explore!"
By the way, if you live in the area and haven't already, sign up for the Engage Kosciusko Digital Passports. There are six total to choose from, and you can earn prizes and receive exclusive discounts at some participating locations!
"Another huge project we partnered with DreamOn Studios on was the Kosciusko by Choice campaign," Laura shared.
That campaign was a Kosciusko Leadership Academy whitepaper project created in partnership with the Kosciusko County Visitors Bureau and Clearly Kosciusko. 
"For this project, we created video interviews of individuals who had chosen to move to and stay in Kosciusko County. The DreamOn Studios team did an outstanding job on these videos and turned 45-minute interviews into powerful, short snapshots that communicate exactly what we needed—that this is a great place to live and visit!"
It's exciting to see how these projects are helping KCCVB promote this beautiful community. In fact, their campaigns are now reaching tens of thousands of people online!
Why Partner with DreamOn Studios?
We love partnering with our clients to communicate their stories and values. Our client-focused model positions us as more than video production experts—we want to support you as an extension of your team and come alongside you to reach your goals.
"DreamOn Studios is easy to work with and provides absolutely stunning, professional video footage," said Laura.
"Not only do they do great work, they are just as passionate about promoting Kosciusko County as we are. It has been amazing to work with a company that aligns with the core mission of our organization so well. Beyond that, they are also a lot of fun! The team is super passionate and excited about their work, and that enthusiasm is contagious."
"I truly appreciate their professionalism and expertise," Cori continued.
"Being able to provide an idea and see DreamOn Studios take it to the next level has truly amazed me. The team is so helpful in making us feel comfortable and confident during the filming. Their enthusiasm and care for the process are truly inspiring! Throughout many video series, I've smiled and clapped, knowing how WELL they hit the nail on the head of what we are looking for in our storytelling. Ultimately, they understand the positive impact our work together provides to the county."
Looking for world-class video production in your own backyard? We'd love to meet you! Schedule a free discovery call or studio tour to explore how we can partner together to share your story.